Modesto Felony Crimes Lawyer
Serious Representation for Serious Charges
A felony conviction can have a lasting impact on your life. Depending on the type of crime you have been charged with, you may be required to register as a "sex offender" or be denied employment in certain fields. You may also be deported if you are not a U.S. citizen. Even if you were not convicted, an arrest can have a negative impact on your life. You may be required to pay bail and spend time in jail before your case is resolved. Modesto felony defense attorney Richard A. Meyer can help you fight for your rights and protect your freedom.
Richard A. Meyer is a criminal defense attorney who has been practicing law for more than 21 years. He represents clients in a wide range of felony cases, including felony DUI, felony drug charges, and felony sex crimes. If you are facing criminal charges, he can help you fight for your freedom and protect your rights.
Call our office today at (833) 999-3179 or contact us online to schedule a free initial consultation.
What Is Involved in a Felony Case?
Felony cases are complex and involve many different parties. The prosecution is tasked with proving that the defendant committed the alleged crime beyond a reasonable doubt. The defense is tasked with protecting the defendant's rights, such as the right to a fair trial and the right against self-incrimination. The case may also involve a police investigation, which may uncover evidence that can be used for the defense or the prosecution.
Criminal cases are very fact specific. The outcome of a case will depend on the specific facts of the case, such as the strength of the evidence against the defendant. You may have a strong defense in one case that would not work in another case.
At the Law Offices of Richard A. Meyer, we understand that every situation is unique. We also understand that felony charges are extremely serious. If you or someone you love has been arrested or charged with a felony crime, reach out to our team right away to learn how we can help.
Defending Against Felony Charges
When facing felony charges, it is crucial to have a skilled and experienced criminal defense attorney by your side. At the Law Offices of Richard A. Meyer, we are dedicated to providing serious representation for serious charges. Our team of Modesto felony crimes lawyers understands the complexities of felony cases and will work tirelessly to protect your rights and achieve the best possible outcome for your case.
What sets our criminal defense law firm apart:
Extensive experience in handling felony cases
Proven track record of successful outcomes
Personalized approach tailored to your specific needs
Thorough investigation and preparation for trial
Strong negotiation skills to pursue reduced charges or alternative sentencing options
Compassionate and responsive communication throughout the legal process
Whether you are facing charges for drug offenses, violent crimes, white-collar crimes, or any other type of felony, our firm has the knowledge and resources to provide you with a strong defense. Contact us today to schedule a free consultation and discuss your case with a skilled Modesto felony crimes lawyer. What Makes Us Different?
Why Clients Choose Us
Offering 100% Free Consults

Get started on your defense with a free consultation today.

Over 20 Years of Experience

Attorney Meyer brings a wealth of knowledge and skill backed by two decades of criminal defense experience.

Aggressive & Compassionate Representation

We fight tirelessly and aggressively for the rights you may not know you have.

Meet with Us Virtually

With virtual consultations, it's easier than ever to get started.
Types of Felony Criminal Cases We Handle
Our Modesto felony crimes attorney handles a wide range of cases, including but not limited to:
Contact Our Firm for a Free Consultation
If you are facing felony charges, Richard A. Meyer can help. He has years of experience representing thousands of clients in serious criminal cases. He understands the complexities of these cases and can help you understand your rights. He can help you understand the criminal justice system and can guide you through the legal process.
At the Law Offices of Richard A. Meyer, we know how to find and expose weaknesses in the prosecution's case against you. We are ready to provide you with the aggressive, personalized defense you deserve. Contact us today to learn how our Modesto felony crimes lawyer can defend you against serious criminal charges.
Call (833) 999-3179 or contact us online. Your initial consultation is completely free and entirely confidential.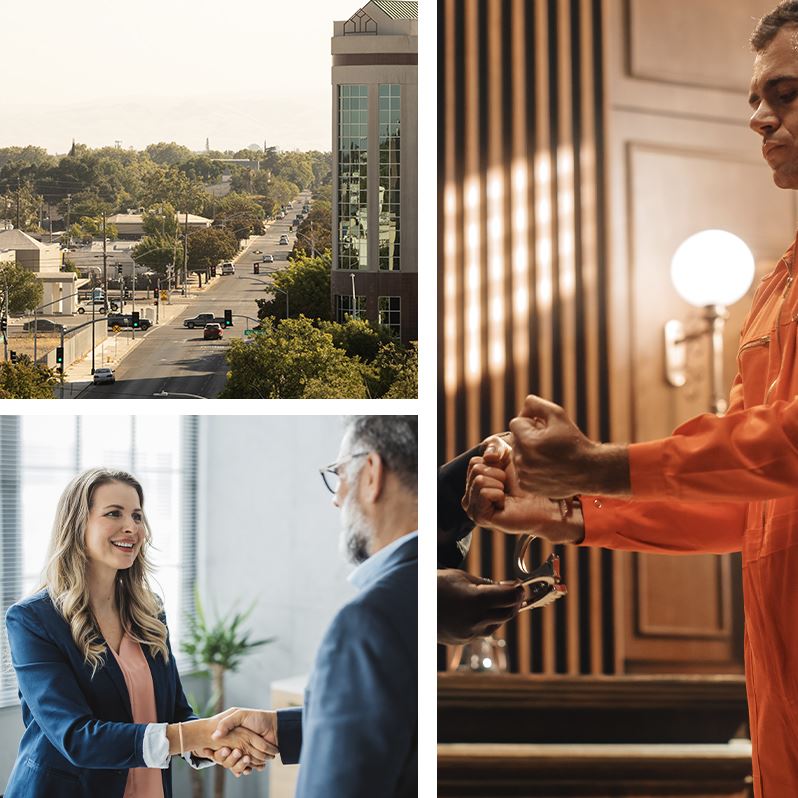 See What Our Clients Have to Say
"He puts you at ease about the situation and tells you what to expect."

Richard helped me with my court case. I didn't even have to show up to the hearing, he handled everything for me during a stressful time.

- Terry N.